Having your coupons created
right from your backend is awesomely fast, convenient and accurate. However, for some reasons you already have the codes for the
coupon generated
beforehand by another party. Maybe because it is easier to manage, you want to implement a huge number of codes at once or you simply have someone else did it for you. Nevertheless, if only you can just implement them right into the store!
Explore Better Coupon
Table of contents
-
How to Import Coupon in Magento 2
-
Multiple Import Coupon codes in Magento 2
-
Import Coupons From CSV file
-
Import Coupons From Text Area
-
After imported coupons
Don't worry as
Magento 2 Better Coupon
, in addition to its main features, will allow you to do just that. Below, you would find a
step by step
introduction
how to coupon codes importation from a CSV file and from Text Area in Magento 2
.
*Tips:
* Use
Multiple Coupons
to help apply multiple coupons in Checkout or Shopping Cart page.
How to Import Coupon in Magento 2?
First, go to Magento 2 Backend and look at the Admin panel on the left. On the panel, click on
Marketing > Promotions > Cart Price Rules > Add New Rule
. Scroll to the very bottom and you will see the option for
*importing Coupon codes
*. From there, it is very easy to see what to do next.
Multiple Import Coupon codes in Magento 2
In the field "Type", there will be two options for you to import coupons. We would go through them one by one.
Import Coupon From CSV file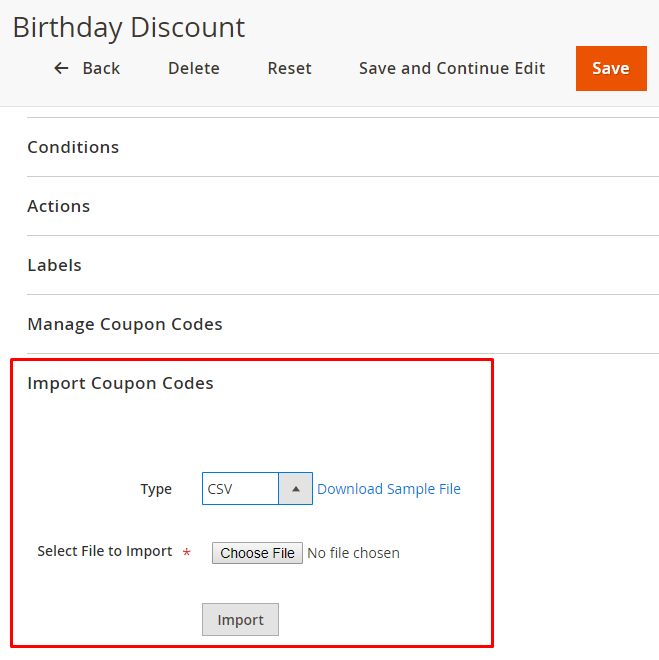 Click on "Type", choose
import from CSV
. Down below, an option for importing a file from your computer will appear. All that's left is simply choosing the file you want to import coupon codes and uploading it.
What's amazing about this feature is that it could automatically detect duplicate codes in your file. Identical coupon codes will not be added and the module will send you a message reporting on how many are repeated.
On a side note, a CSV file is a plain text file that contains values made of texts and numbers. Values in the file are separated by commas, hence the name CSV (comma-separated values). If you want to see what a usable CSV file looks like, you can download a sample by clicking on the button next to the "Type" section.
Import Coupon From Text Area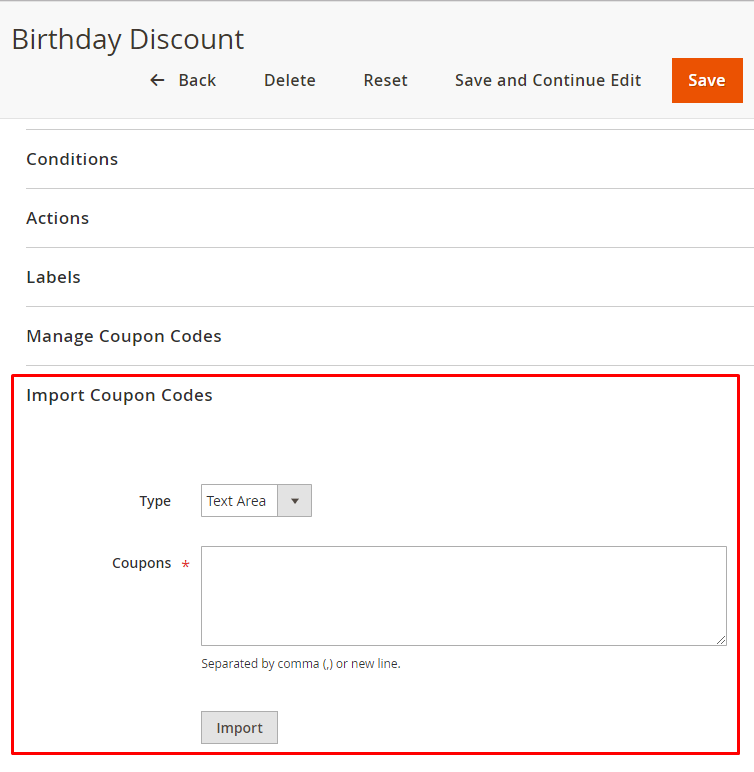 As a foresight, coupon importation can also be done by directly typing into the text area. This option is very convenient when you just want to implement a small portion of codes instead of the whole file. To import coupon code, simply paste them in the blank field below the "Type" field, or type them in manually. If you choose to do the latter, remember to separate the codes by either a comma or a broken line.
After imported coupons?
After being imported, your coupon codes will be ready to use, just like the ones created with the usual
coupon generator
.
Code importation is a great way to create coupons. You don't have to confine to only using the store-based generator, opening up the possibility of having someone else who is not store admins take care of codes creation for you. It's also quick to do and is error-free.
Aside from this one, Better coupon also has other functions just as neat like a quick link builder and
pre-applied coupon link
.
Explore Better Coupon
Updated on: 06 / 21 / 2019